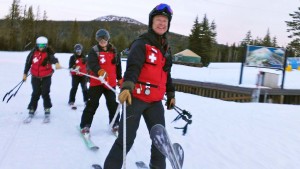 All members of the Mt. Bachelor Ski Patrol serve on a volunteer basis and volunteer on weekends only. Each year, the patrol adds new members interested in becoming part of a rewarding experience based on love of the outdoors, winter sports, service to others, and lasting friendships.
Anyone interested in becoming a patroller for the 2018-19 season must first sign up on here on our web site and then attend one of the following meetings:
Monday, Feb 5, 2018 or Tuesday, February 20, 2018
Both meetings will be held at 7pm at The Center ( 2200 NE Neff Road, Suite 200, Bend, OR ). We hope to answer all your questions regarding becoming a patroller. If you're still interested then you will be asked to sign up for one of the following ski tests at Mt Bachelor:
March 11, March 18, or March 25 2018
Those attending the ski test will be contacted in advance regarding specifics of when/where to meet and how a ski pass will be attained.
You can sign up to learn more by entering your contact information below. A member of the ski patrol will follow up and advise you of the selection process, the training program and answer any questions. Our FAQs found HERE can help you learn more about serving on the patrol.
All members of Mt. Bachelor National Ski Patrol must be or become certified Outdoor Emergency Care (OEC) technicians and keep their credentials current through the patrol's required training activities.