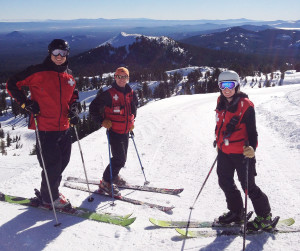 Who We Are
The Mt. Bachelor National Ski Patrol is a group of highly trained and dedicated volunteers. We provide first aid and emergency transport guests in need of assistance. Patrollers use alpine, Nordic, or telemark skis or snowboards to move about the terrain and respond to emergencies.
More than 50 years of service to the Mt. Bachelor Community
In 1958 a group of Mt. Bachelor skiers led by Jack Staton banded together to form a local chapter of the National Ski Patrol and join a movement that began 20 years earlier at Stowe, Vermont.  Today approximately 90 men and women carry on their work under the banner of the Mt. Bachelor National Ski Patrol. Their job – help visitors to Central Oregon's largest and most popular ski resort have the safest possible visit by treating and transporting those suffering injury or illness.
Mount Bachelor NSP Officers and Area Leads
Patrol Director: Allen Engle
Assistant Patrol Director: Darrin Wittwer
Secretary: Damon Clembury
Treasurer: David Dattke
Alpine Representative: Eric Brittingham
Nordic Representative: Anthony Daprano
Aid Room Patroller Representative: Tony Hype
OEC advisor: Hans Kallam
OET advisor: Eric Brittingham
Candidate Training Director: Curtis Mclean
Webmaster: Bill Anderson